Finally I get around to posting pictures of my FOs and WIPs!
I'll start with one of the oldest, my Simply Marilyn from Interweave Knits.
Unfortunately, this beautiful sweater looks
HORRIBLE
on me so I am thinking of frogging it and using this lovely Cashmerino for something I'll actually wear.
This could be something I might actually wear - the Banff from Knitty and KnitWits:
I am kicking myself for not taking a picture of the Flower Power Shrug from IK before I sent it off to my sister. But I made another of the shrugs from that inset, although I used ribbon yarn instead.
I LLLLLLove this Deco Ribbon yarn. I've got to make something else from it.
I loved Knitty's French Market bag so much that I made two - one from Lamb's Pride and the other from Noro Kureyon. The Noro one didn't felt up as well as the Lamb's Pride but it's beautiful. I use them for carrying my WIPs.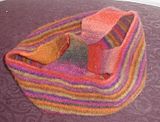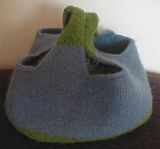 I couldn't help myself but had to make the Chain Link Scarf from Loop-d-Loop because I had some mohair left over from the Flower Power Shrug. I added a beaded flower just because I love making them