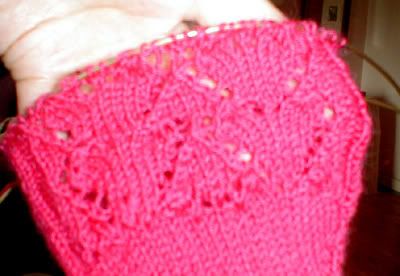 On Wednesdays I meet some women at lunchtime to knit and I brought my sock along. I am doing a heart lace pattern on it and there is a part where you have to knit 4 together, as I said in an earlier post. I was using a crochet hook but Peggy, the wisest, told me to just make those stitches loose in the previous row and I should be able to forego the hook. And she was right! It works much better. She's making a scarf where she does a knit 7 together front and back and she also tried the crochet hook deal, but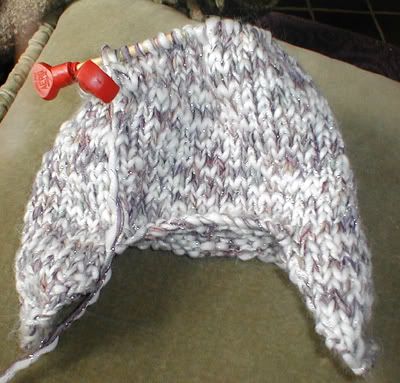 it's too awkward. Making loose stitches - priceless! Here's a close up of the sock so far.
I also worked on an earflap hat. The yarn is called "Eskimo" and it's wool with bits of metallic ribbon. Pretty cool and super soft. Unfortunately I don't think I'll have much left for a scarf. I guess it'll just have to be a short one.
The snow is melting today and it has warmed up quite a bit, thank goodness, since I've got to be out driving in it this evening. I'd rather drive in the slop than the ice.