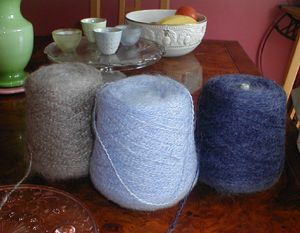 I scored big yesterday. I can't remember how, but I found this place called
Paradise Fibers
. They have mill ends of some odd ball yarns. I bought some mohair because I had finished up that Flower Power shrug for my sister and loved it so much that I thought I'd like to make one for myself. Even though this mohair is blended with synthetics I thought I'd give it a try. Can't beat the price. It is $10 for 1500 yards! Here's the colors I got. There isn't much of a selection but I originally thought I'd make another Chain Link scarf with three colors and, while it doesn't show up very well here the color on the left is green and it looks lovely with the two blues. But then I got to thinking that maybe I'd like to make a throw. When I was making the latest felted bag I noticed how pretty the pattern was on the bottom of it. When you knit in the round and increase once at the beginning of each needle (you're using 4 dpns w
hen you start out) a wonderful swirl pattern automatically happens. I thought it was so pretty and that it would make a great blankie. Especially since this mohair is washable because of the acrylic content. I also figured that in order to make it reversible - the only problem with knitting a throw rather than crocheting it - I'd have to stripe it by knitting a few rounds then purling a few rounds. Well, here's the very start of it. Can you think it a sillier time to start knitting a blanket?? But I like to have a few projects going so I don't get bored and this is a mindless type of project that I can just sit and do while watching a game or having a drink. No counting.
I whipped out another felted bag. This is another version of Sheree-Lee from
Spun
. I had knit one that looks exactly like the pattern and then branched out, using stash. Unfortunately I didn't make the handles long enough to put over the shoulder, but at least this time I put rubber tubing through the eyelets so that when I felted it they didn't close up and now I can use the handle as a drawstring, which I couldn't do with the first one. Prefelted it looked like this. And after felting like this. I love making felted bags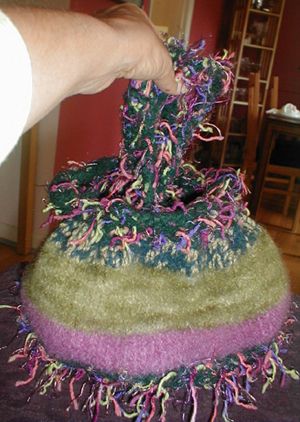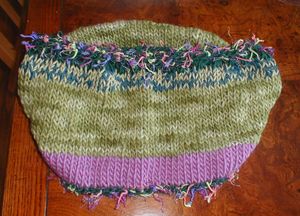 because not only can you use up stash, but they go so quickly and you don't know really what you're going to end up with until you take them out of the washing machine. Each one is unique. I also finished the BF's guitar strap and felted it. I haven't put the holes in it yet. He loves it. I can't wait to see that on his guitar. I guess we'll have to do that this weekend. It looks pretty darned good though, just laying on his guitar case.