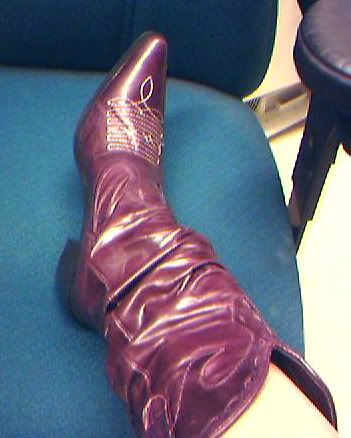 I finally got my new phone, the camera works great and I took a picture of my latest fantastic eBay purchase, a pair of purple Steve Madden slouch cowboy boots. I lllllllove these! They're showing a bit red on my monitor even though I tried to adjust the color. They're much more purple - like Welch's Grape Juice purple, or UW Huskies Purple and Gold purple. Just perfect. I'd wear them with everything if I could.
So ... knitting news ... hmmmm ... well, I got the first sleeve done on the basketweave jacket. I really really REALLY want to get that finished this weekend. I should be able to get a good start on the second sleeve tonight if a) the dog is not all wound up and b) my friend picks up her son early enough. Otherwise it's going to be a big push this weekend because I have about a bazillion other projects I need to get cracking on.
School is just about in session - for the regular students anyway - we've been going here at the Med School for a month now. But you can really tell it at the IMA (the gym). Last Tuesday was packed at 11:30 am!! Usually it's a very quiet time to go - that's why I go there on Tue and Thur - less traffic. But the kids don't have much to do now so they're hanging out in the gym making my workout an annoyance rather than a stress reliever. Oh well, it's only for a few weeks, then they'll stay away until right after the Christmas break when it'll get busy again for a few weeks. Like clock work.