Loooong weekend. And I did not knit! I did make the cat a bed though - crochet. Very veerrrry kitschy. It had to be done -- she had comandeered my down cuddle blankie that turns into a pillow. The weather is starting to turn and I wanted to use my blankie but the cat has gotten it all furry. So I found an old pillow and this weekend made a fuzzy cover for it. My hand hurts! I'm not used to the crochet movements. Anyway it's all done and now I can get back to making that jacket. I'm almost done with the back.
I t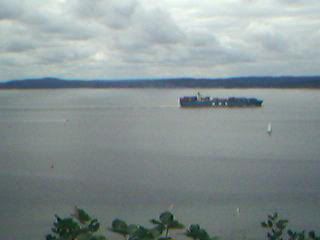 ook this picture on a walk in Discovery Park on Saturday. I tried to send it to Emma (Emma!! where are you??) from my phone but the call didn't go through. I don't know if that means she's got a different number or what. I was able to text her when she was in Australia so one would assume that Luxembourg would be no problem either. But then again ..... Anyway the walk was lovely. I was thinking of you Em ... it's been since Emma visited that I had taken Tink to this park. It's a wonderful walk and the weather was just fabulous. This picture makes it look much darker than it truly was. It looks like it's threatening rain in the picture but in reality it was much more blue. Oh ... and so we're walking along and all of a sudden a couple comes up behind us and start making over Tink ... "Oh, what a CUTE puppy!" I looked at the woman and immediately saw it was my second husband's girlfriend and sure enough, bent over Tink cooing was Andre! He looked up at me when I said "This is Tinkerbell" and just about swallowed his tongue. She said "Oh, nice to see you again." and off they went, walking as if Satan was at their heels!! Verrryyyy funny!
College football season has started and the Huskies made a brave start and even lead Air Force but choked and lost the game. Still it was a nice long holiday weekend. Now back to reality.