I finished my felted basket and decided to make a blog where I can post patterns only. Here's the link to
Shelley's Patterns.
I guess I should put a link on my sidebar as well. Here's a picture of the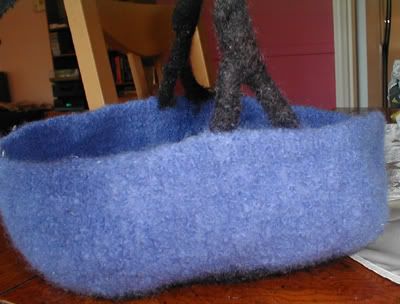 finished basket. I particularly like how I did the handles and that's the main thing I was going for. I think I could have made it a little deeper, but for hauling around unfinished projects, it works. I used purl ridges for dividing the bottom from the sides and for the top to have a good place to sew the handles. It doesn't show after it's felted. I thought it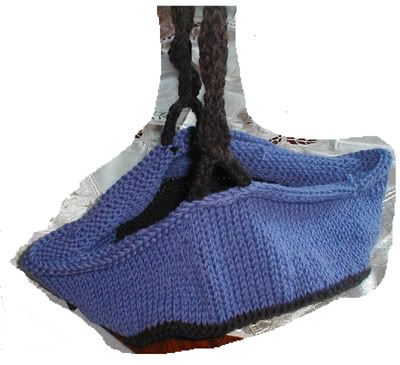 would be more obvious, although I don't mind that it isn't. Here's a picture of the unfelted basket. It measures 23 inches a long side and about 6 1/2 or 7 inches tall. It felted down to just over 3 inches, which seems like a lot. I used Peruvian Highland Wool from Elann and that's the first time I have used it for felting. I like the finished fabric. It's nice and stiff. I used two strands, by the way, because it's not a bulky wool. I'm thinking of using this for that cabled shrug from IK I was going to make for my friend Ruth and now am making for myself. My office gets wicked cold and it would be very comfy and pretty as well.
I got another good bit done on the sweater jacket sleeves but my hand started hurting again. I swear it's the purling. I will be glad when that beast is finished.