Oh my goodness .... the football game on Sunday was THE most exciting game I've been to in a long time. The Seahawks pulled out a win on the last play! Beating the Cowboys. It was incredible! And raining the whole time, as well. Thankfully we were under cover although I think we would have stayed regardless. Not too many people left. It was totally sold out. Wow.
And knitting-wise I got the whole back of the lace sweater finished. Luckly it's the back too, because I made a little mistake on the peplum and it's not perfect. I don't know -- I might have to rip it out if it really bothers me. It is just so hard to fix mistakes when you're doing a lace pattern, even one as simple as this, which is basically eyelets. I thought I had fixed it correctly but when I got all finished I noticed th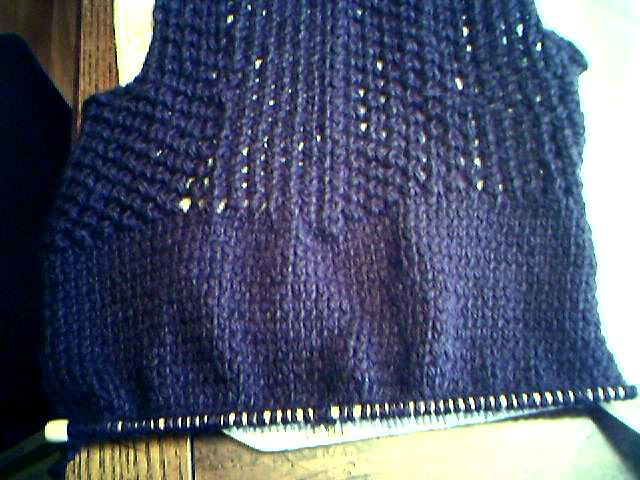 at one of the eyelets is much larger than the rest. So we'll see. Here's a picture when I picked up the stitches to start on the bottom. I was so proud of myself to have gotten them all right on the first go - got all the stitches and they were all going in the right direction. Except -- my needle is pointing the the wrong way. No big deal though - it's easy enough to change directions. At least I didn't have to manufacture any stitches. The provisional cast on really worked.