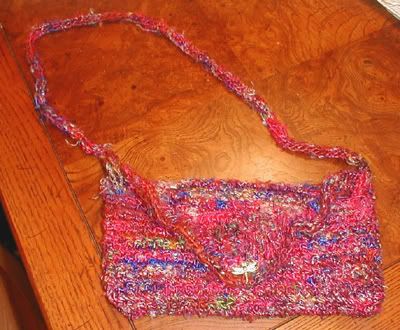 Well, I figured out what to do with Sari Silk! I made this cute little purse! I have a pattern for it on my pattern page. I basically just imagined it and then made it. The body is crochet and the handle and ruffle are knit. Crocheting is definitely a lot easier to do with this stuff than knitting - unless you're doing just plain stuff. No fancy stuff with the silk because it doesn't give at all! But I am really happy with the way this turned out. I won't actually use it, mind you, since I don't usually carry this type of bag, but I can probably gift it or sell it. There are more detailed pictures on the pattern site as well. I didn't do a very good job putting the lining in, unfortunately. It's a bit crooked at the peak of the flap. It kind of bothers me so I'll probably re-do it. Other than that, it's pretty nice.
I went, for the first time, to JoAnn's craft shop. I needed to get fabric
for the lining and something to use as a backing for the back side of the purse so it wouldn't fold in on itself and also a button. Man, that place is something else! It was PACKED!! As I was wandering around I found some really soft yarn - a mohair blend in a lovely green (I love that color, for some reason) and I thought it would look nice for a ruffled scarf pattern on the cover of IK Crochet - so I bought some of it and made the scarf that evening as well! It's awfully cute, don't you think? I don't usually like crochet but I got on a roll this weekend. And not only that ... (but wait! there's more!) I got the stitches picked up for the other sleeve on the jacket and got about half of it done yesterday evening. Very busy, crafty weekend.
Football news - not so good this weekend. The Huskies played well but lost. The Seahawks gave the FREAKIN' GAME AWAY!!! Oh .. what a heartbreaker. Dang kicker! We could have won it but he missed the kick, it went into overtime, the Redskins won the toss and ...
their
kicker didn't miss. Oh ..... just makes my stomach hurt to think about it. Next week the Rams and we all know what happens when Seattle plays St. Louis, don't we?? The good news is that the Patriots lost!! Woohoo! And the Chargers were the ones to beat them. More better. So it wasn't a total loss of a football weekend.
Countdown to mini-break. How many more hours until I get on that plane? Oh too many to count now but close. The busy week will go by quickly.