Hooray! Took Tinkerbell to the vet yesterday and she's doing very well. The mites are gone and her allergies are just being managed by the Benedryl. We just have to wait and see if she gets worse or whatever. Not excellent news, that, but since things are okay now we'll take it. She can get groomed again and get caught up on her shots and she's not too itchy, so things are definitely better. And she and Wendy are getting along better every day. Last night they slept on the bed without incident - Wendy up top and Tink on the bottom or in between us. I will throw a party the day they play together.
I got some work done on the necklace idea I had - I managed to copy that one from Anthropologie right on the first go! So I'm going to get some fresh water pearls and make a couple for gifts or maybe to donate to an auction.
I also got t
he latest IK and found a shrug in there that I so want to make for my friend Ruth. I think it would really suit her. Here are a coup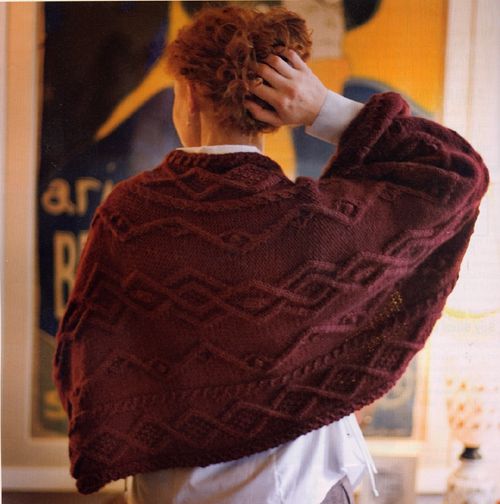 le views of it. It calls for $300 of a cashmere/silk blend yarn. It think I'll find a substitute that is a little more cost effective, eh? Although wouldn't it be wonderful to do it in that yarn. I'll bet it's amazing.
I got a good bit done on the sleeves of the cardigan. It's getting to be football season - great for knitting because I can sit and watch games and not f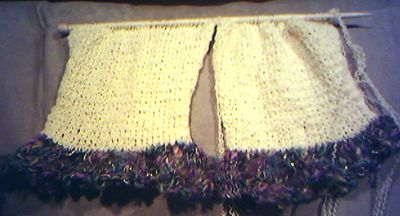 eel that I'm wasting time. Here are the sleeves. With any luck I should have this thing almost done by the weekend.