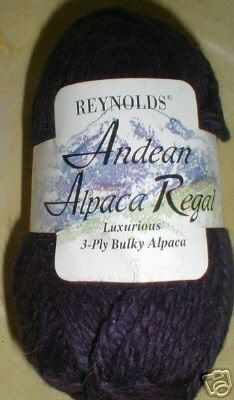 Well hooray! I actually rode my bicycle to work today, finally. It's been one week since the dreaded door incident. No problems although I was just a
little
more careful than usual. And my bruises and swelling are getting much better as well so hopefully I can have a run tomorrow. I'm sure I'm not the only one who is glad that I'm getting better. I can get a little cranky when I can't run or ride.
I bought this yarn from ebay for that sweater from Vogue Knits. It looks a little bit darker than the picture but who knows really. All the pattern says is purple and it's purple. Could be last season's purple but I like the color. I think it will suit the pattern well.
I only worked a little bit on my orange cashmere whatever-it-is. It is such a portable project because it's in the round and I'm just working on the body so I take it when I can knit but can't count, like when I go visit my Dad. It's looking really big though so I think I'd better try it on and see what's up. I might have to frog it and try again. I cast on a large neck opening because I wanted it to be off the shoulder a little bit, or at least to the edge, but after making all of the increases down to the arm pit and putting the sleeves on waste yarn, the body looks pretty large. Well, I never know until I try it on so I should do that tonight.